For Perfectly Planned Study. Our flagship program, the ICP delivers interactive, high quality training designed to yield the best results in the GATE exam.
For Pure Practice. Practice high quality questions and assess yourself online with a comparative birds-eye view on performance indicators like All-India Rank, Percentile, Score, Section-wise Performance Analysis etc.
Invaluable study, right at home. Get the best of both worlds with a blended course that combines self-learning (video lectures & study material) and faculty-assisted learning (chat & voice-based interaction with faculty).
Live online courses from your home or our center. Get access to live classes, our study material through GDrive (pendrive) and our online test series.
1.8 LAKH STUDENTS TRAINED SINCE INCEPTION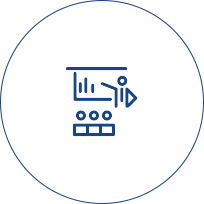 FACULTY FROM IITs & IISc
EASY, INTERESTING & AFFORDABLE LEARNING
RECOGNIZED AS THE BEST GATE TRAINING INSTITUTE
GATEFORUM undoubtedly is a leading brand in training students for GATE. It offered a competitive level of insights in instrumentation. Classes were very much inclined to the GATE viewpoint. Other students in the batch also were an inspiration. GATE is easy to crack if the training is done under experienced professionals.
Debangshu Chatterjee
AIR-2 / CS GATE 2016
I studied using GATEFORUM's correspondence course books. It has an excellent compilation of questions from varied domains and covers all types of problems. The online assessment tests also are very helpful. After every full-length test, there is a question-answer discussion forum, and video tutorial for every question. These things really helped me in my preparation
Avinash Kumar Shah
AIR-2 / IN GATE 2016
GATEFORUM's Online TarGATE provides practice in GATE questions with comprehensive comparative analysis. It also provides AIR, percentage, Score and section wise performance analysis. These online tests have helped me in improving Time management, subject concepts and also in understanding where I stood with respect to the competition and improve
Pooja Kulkarni
AIR-3 / CS GATE 2016
GATEFORUM has a huge experience of preparing students for gate exam under its belt. I found its test series to be very effective and at par with the gate exam. The sectional tests and All India Tests were really up to the mark and these tests can be really trusted upon.
Ronika Goswami
AIR-1 / CH GATE 2016